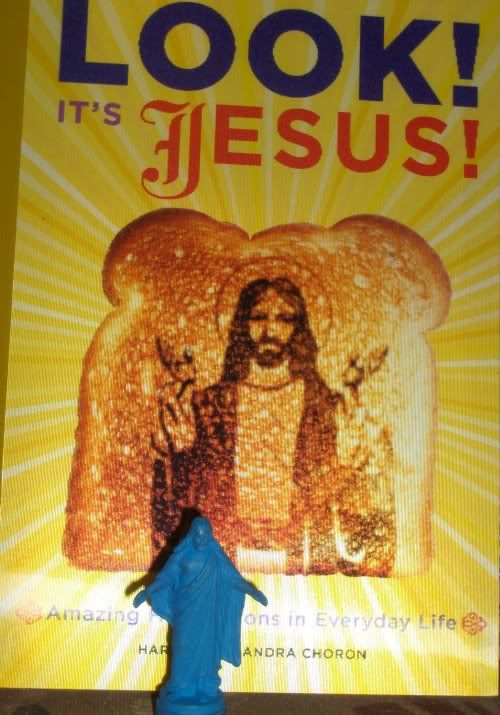 I bought this book the other day because I thought it was funny.
Look! It's Jesus
includes pictures of all the objects and locations where people have witnessed the image of Jesus or Mary or Moses or... but not that other holy guy because they'll say you drew it and then kill you.
Half of my brain is thinking, "Oh, this is hilarious. These people must be idiots," while the other half wonders, "Oh, these people must be idiots. This is hilarious."
Yes, I know that was the same thing. It's
my
brain.
Parts of the book are interesting and thought-provoking like seeing the image of Jesus in the pierogi: I see Him. But I also see a delicious pierogi. And Couch Stain Jesus? It don't feel right worshipping a picture formed from back sweat.
And some of these visions aren't even close. Cell Phone Jesus is just nothing. Alabaster Vase Jesus looks more like Kirk Douglas or Mel Gibson. And Handbag Jesus doesn't even mention that the wrinkles on the right side of the photo seem to suggest that Jesus had a dog.
Cloud Jesus, Frying Pan Jesus, hell these people find Jesus everywhere. And that made me look around my own home. And I found several mysterious representations.
You might not believe, but others will. Some of these images are unmistakable if only you learn to look not only with eyes, but also with your heart.
Hints:
look for Jesus on a Twinkie,
Jesus over the world,
Jesus in the wood grain,
Jesus on a tortilla chip,
Jesus walking on the water, and
Jesus in the refracted light from a crystal goblet.
Amazing. There are completely unretouched photos.
So where is my publishing contract?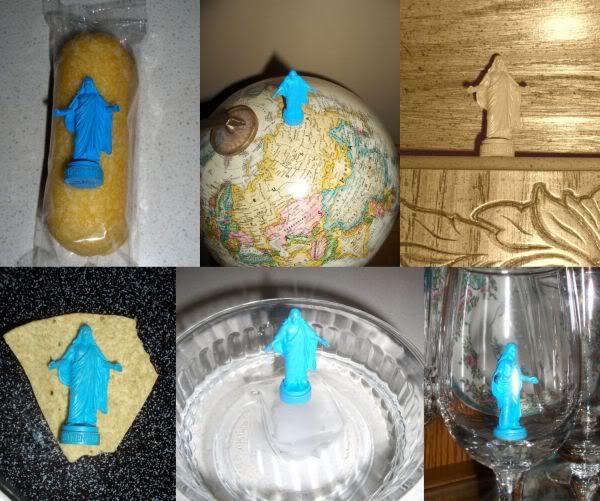 larger versions of the
photos are here
.